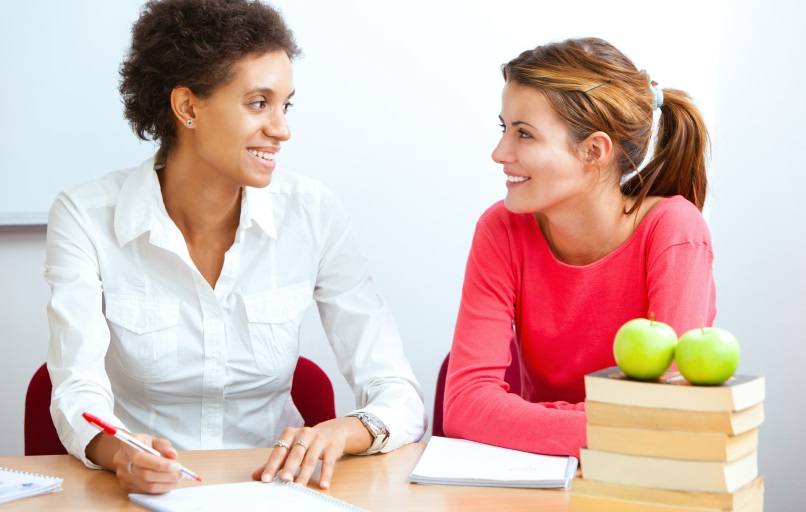 Despite growing recognition that teacher-leaders can play a vital role in supporting the development of their peers, little empirical research has focused on selecting teacher-leaders. A 2010 research review found only 11 studies that included findings on teacher-leader selection—and not one offered practical guidance for school administrators interested in designing an effective selection process. Consequently, our understanding of key aspects of teacher-leader selection, such as how to design the selection process, what criteria to use, or who should be involved in selection decisions, is based more on experience and intuition than empirical evidence.
Until we have more evidence about how to select teacher-leaders who are likely to be effective at leading their peers, educators and policymakers can look to cross-sector research and experience on determining job selection criteria and processes.
Selection Criteria. Research and practical human resource manuals suggest that three areas should be assessed during the selection process:
Demonstrated Job Skills. Has the individual demonstrated the skills needed to fulfill their job responsibilities, as indicated in the job description?
Observable Behavioral Competencies. Has the individual demonstrated that (s)he typically uses behavioral competencies—the habits of behavior that help predict how an individual will perform in a job—at the level needed to be effective in this position?[1]
Prior Evidence of Success. Has the individual proven that (s)he can achieve outcome goals correlated with success in the new role (e.g., high-progress student learning outcomes, improved conditions within the school such as behavior and attendance, contributions to the work of other teachers)? And that (s)he can achieve goals working with and through a team?
These three broad categories are flexible enough that they can be adapted to fit a variety of teacher-leader roles. However, developing a selection process based on these categories will require education leaders to develop job descriptions that include a summary of the particular role as well as clearly articulated job responsibilities and qualifications, including skills. District leaders will also need to determine which behavioral competencies—the habits of behavior necessary for a particular role—are most critical for each role; states can contribute to developing these or finding off-the-shelf versions districts can use for varying teacher-leader roles. Finally, school and district leaders will need to ensure that prior evidence of success is correlated with the responsibilities of the new leadership position— for example, achieving high-progress student outcomes in relevant subjects, or successfully leading and managing a team of adults to accomplish goals.
Selection methods. A variety of methods exist to measure job candidates' qualities, although a review of the research indicates that even the most promising methods can predict eventual job performance only imperfectly. That said, research suggests that if developed and implemented correctly, behavioral interviews that ask candidates to tell about past events in detail have a high potential to determine if a candidate has the competencies that are predictive of superior performance in a particular job. The past-event interviewing technique asks candidates to offer examples of how they thought, felt, and acted in the context of a specific, real-life, past situation, rather than asking for their opinions or philosophies about work success.
Below you will find links to resources on the following topics:
General Resources on Teacher-Leader Selection
Assessment Areas and Methods for Selecting Teacher-Leaders: Chart offers overview for educators and policymakers of three general areas to assess in selecting teacher-leaders and methods for assessment
http://opportunityculture.org/teacher-led-professional-learning/selecting-teacher-leaders/
Math and Science Partnership: Selecting Teacher Leaders: Resource reviews promising practices, insights, and the very limited research base on selecting teacher-leaders
http://www.mspkmd.net/index.php?page=21_1a
Teaching as Leadership: The Highly Effective Teacher's Guide to Closing the Achievement Gap: Teach For America book considers competencies of top teachers in low-income communities
http://www.teachingasleadership.org/
Teacher Leadership Skills Framework: Tool from the Center for Strengthening the Teaching Profession can be used for selecting teacher-leaders as well as designing training and development support
http://cstp-wa.org/cstp2013/wp-content/uploads/2013/11/CSTP_teacher_leadership_skills_framework.pdf
Job Candidate Selection Methods
Selection Assessment Methods: A Guide to Implementing Formal Assessments to Build a High-Quality Workforce: SHRM Foundation considers research and expert opinion on effective human resource practices
http://www.shrm.org/about/foundation/research/documents/assessment_methods.pdf
Attracting and Selecting: What Psychological Research Tells Us: Article reviews selection tools and recruitment strategies research
http://mba-studygroup.wikispaces.com/file/view/Attracting+and+Selecting+What+Psychological+Research+Tell+Us_Ann+Marie+Ryan+and+Nancy+T+Tippins.pdf
The Employment Interview: A Review of Current Studies and Directions for Future Research: Reviews research on effectiveness of job interviews in predicting future job behavior
https://www.sciencedirect.com/science/article/abs/pii/S1053482209000382
Evaluating Job Applicants: The Role of Training and Experience in Hiring: Report from U.S. Merit Systems Protection Board helps federal agencies improve how they assess job candidates
htt://www.mspb.gov/netsearch/viewdocs.aspx?docnumber=968357&version=972211&application=ACROBAT
Work Sample Demonstrations
Using work tests as an additional staff selection tool: Examples, advantages, and disadvantages of work sample tests and how to create one, from University of Western Australia
http://www.hr.uwa.edu.au/policies/policies/selection/tests
Evaluating Job Applicants: The Role of Training and Experience in Hiring: Report from U.S. Merit Systems Protection Board helps federal agencies improve how they assess job candidates
http://www.mspb.gov/netsearch/viewdocs.aspx?docnumber=968357&version=972211&application=ACROBAT
Structured Behavioral Interviews
School Turnaround Teachers: Selection Toolkit: Public Impact toolkit to help districts identify and hire teachers with the capacity and will to implement school turnarounds, with focus on critical competencies
https://publicimpact.com/wp-content/uploads/2009/09/Turnaround_Teacher_Selection_Toolkit.pdf
Turnaround Principal Competencies: Lucy Steiner and Sharon Kebschull Barrett of Public Impact examine in School Administrator article how understanding competencies can help administrators hire turnaround leaders
http://www.aasa.org/content.aspx?id=24052
Competence at Work: Book from Signe and Lyle Spencer summarizes decades of experience using the Behavior Event Interview method for selecting job candidates who are more likely to succeed in a particular role
http://www.amazon.com/Competence-Work-Models-Superior-Performance/dp/047154809X
Teacher & Staff Selection Toolkit: Designed for Opportunity Culture job models designed by Public Impact but useful for other jobs, toolkit includes selection methods that include using behavioral competencies
https://opportunityculture.org/selection-toolkit
Cognitive Assessments
Watson-Glaser Critical Thinking Appraisal: Hourlong appraisal that can help assess both analytical and conceptual thinking skills
http://www.thinkwatson.com/assessments/watson-glaser
The Graduate and Managerial Assessment (GMA): Designed to assess those with higher ability and senior manager potential, aimed at the top 12.5 percent of the population
http://www.prd.co.uk/Tests/gma.tml
Personality Assessments
The Big Five Personality Dimensions and Job Performance: Research to determine the relationship between personality dimensions and job performance using the NEO-Personality Inventory
http://www.sajip.co.za/index.php/sajip/article/viewFile/88/84 
Myers-Briggs Type Indicator: 20-minute, online personality assessment tool that considers leadership behaviors
http://www.cpp.com/products/mbti/index.asp
NEO Personality Inventory-3: Online, 45-minute personality assessment tool that may help determine which team members would complement school's leadership team
http://www.sigmaassessmentsystems.com/assessments/neopir.asp
Biographical Information and Reference Checks
Evaluating Job Applicants: The Role of Training and Experience in Hiring: Report from U.S. Merit Systems Protection Board helps federal agencies improve how they assess job candidates
https://www.mspb.gov/mspbsearch/viewdocs.aspx?docnumber=968389&version=972243&application=ACROBAT